Dr. Weeks' Comment: It has been clear to practitioners of Corrective Cancer Care™ that chemo brain is the result of neuro-inflamation ("creating inflammatory microglia cells") and we treat this very debilitating cognitive problem very successfully with anti-inflammatory seeds and chemo brain evaporates. This is a guaranteed successful result.
Chemobrain: How It Happens, and Perhaps How It Can Be Stopped
Kristin Jenkins
February 13, 20194
New understanding of what causes "chemobrain," or chemotherapy-related cognitive impairment (CRCI), may eventually lead to treatment or even prevention, say neuroscientists.
The new insights come from studies in postmortem human frontal lobe tissue and from a mouse model of methotrexate-induced neurologic dysfunction.
They show that methotrexate chemotherapy triggers the brain's immune response, creating inflammatory microglia cells. This in turn triggers neurotoxic reactivity in astrocyte cells that support synaptic connectivity, causing dysregulation of oligodendrocyte cells involved in myelination and homeostasis.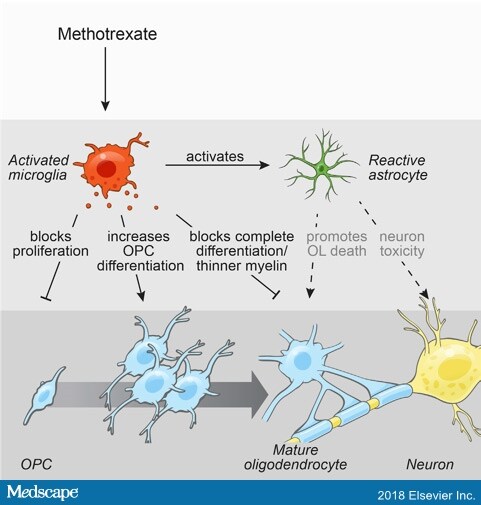 Methotrexate induces persistent tri-glial dysregulation (Cell. 2019;176:43-55).
The good news? The team showed that an experimental drug depleted inflammatory microglia, normalized cell activity, and restored cognitive function in the mouse model, say Michelle Monje, MD, PhD, associate professor of neurology and neurologic sciences at Stanford University School of Medicine in Palo Alto, California, and colleagues.
In their study, they used the colony-stimulating factor 1 receptor (CSF1R) inhibitor PLX5622. They note that similar agents are currently in clinical trials for other indications.
The study report was published online December 6 in Cell.
"These findings indicate that methotrexate chemotherapy exposure is associated with persistent tri-glial dysregulation and identify inflammatory microglia as a therapeutic target to abrogate chemotherapy-related cognitive impairment," the investigators write.
"It's an exciting moment," said Monje in a statement from Stanford. "If we understand the cellular and molecular mechanisms that contribute to cognitive dysfunction after cancer therapy, that will help us develop strategies for effective treatment. There's real hope that we can intervene, induce regeneration, and prevent damage in the brain."
Clinical trials into interventions are expected to being within the next 2 years, she said.
Monje said she suspects this type of complex dysfunction may underlie other cognitive disorders seen in demyelinating diseases, such as multiple sclerosis. "I think that is probably more the rule than the exception," she commented.
Major Cause of Morbidity
The American Cancer Society has estimated that the number of cancer survivors in the United States will increase from 15.5 million in 2016 to 20.3 million by 2026. "Thus, CRCI represents a major source of morbidity during and after cancer therapy and a great unmet need to be addressed," the researchers point out.
In an interview, Monje emphasized that chemobrain is real, and extremely debilitating. Most studies show it can last for weeks, months, or even decades following chemotherapy, she said.
READ THE rest of the article HERE