Dr. Weeks' Comment:  Pesticides target FEMALE bugs. They disrupt female reproductive capacity. That is one of the many reasons that humans, who share surprisingly much DNA and hormonal attributes with bugs, should eat organic.   As the father of daughters, we grew and bought organic from the start (i.e. from prior to conceiving our kids) . Is the term "organic" a valid criteria or just a marketing term. This is a valid question given the perplexing fact  that fruits and vegetables to which the farmer DOESN'T add pesticides cost more than those left alone to grow with no additives…   (supply and demand accounts for that illogical situation).   So, a review of the scientific-peer reviewed literature yields what you would expect: simply what is paid for. What is required is considered analysis.  So let review and consider some publications.
 BENEFITS OF ORGANIC
Br J Nutr.
 2014 Jun 26:1-18. [Epub ahead of print]
Higher antioxidant and lower cadmium concentrations and lower incidence of pesticide residues in organically grown crops: a systematic literature review and meta-analyses.
Barański M
1, 
Srednicka-Tober D
1, 
Volakakis N
1, 
Seal C
2, 
Sanderson R
3, 
Stewart GB
1, 
Benbrook C
4, 
Biavati B
5, 
Markellou E
6, 
Giotis C
7, 
Gromadzka-Ostrowska J
8, 
Rembiałkowska E
8, 
Skwarło-Sońta K
9, 
Tahvonen R
10, 
Janovská D
11, 
Niggli U
12, 
Nicot P
13, 
Leifert C
1.
Abstract
Demand for organic foods is partially driven by consumers' perceptions that they are more nutritious. However, scientific opinion is divided on whether there are significant nutritional differences between organic and non-organic foods, and two recent reviews have concluded that there are no differences. In the present study, we carried out meta-analyses based on 343 peer-reviewed publications that indicate statistically significant and meaningful differences in composition between organic and non-organic crops/crop-based foods. Most importantly, the concentrations of a range of antioxidants such as polyphenolics were found to be substantially higher in organic crops/crop-based foods, with those of phenolic acids, flavanones, stilbenes, flavones, flavonols and anthocyanins being an estimated 19 (95 % CI 5, 33) %, 69 (95 % CI 13, 125) %, 28 (95 % CI 12, 44) %, 26 (95 % CI 3, 48) %, 50 (95 % CI 28, 72) % and 51 (95 % CI 17, 86) % higher, respectively. Many of these compounds have previously been linked to a reduced risk of chronic diseases, including CVD and neurodegenerative diseases and certain cancers, in dietary intervention and epidemiological studies. Additionally, the frequency of occurrence of pesticide residues was found to be four times higher in conventional crops, which also contained significantly higher concentrations of the toxic metal Cd. Significant differences were also detected for some other (e.g. minerals and vitamins) compounds. There is evidence that higher antioxidant concentrations and lower Cd concentrations are linked to specific agronomic practices (e.g. non-use of mineral N and P fertilisers, respectively) prescribed in organic farming systems. In conclusion, organic crops, on average, have higher concentrations of antioxidants, lower concentrations of Cd and a lower incidence of pesticide residues than the non-organic comparators across regions and production seasons.
Int J Environ Res Public Health. 2014 Apr 8;11(4):3870-93. doi: 10.3390/ijerph110403870.
Contribution of organicallygrown crops to human health.
Johansson E1, Hussain A2, Kuktaite R3, Andersson SC4, Olsson 
Abstract
An increasing interest in organic agriculture for food production is seen throughout the world and one key reason for this interest is the assumption that organic food consumption is beneficial to public health. The present paper focuses on the background of organic agriculture, important public health related compounds from crop food and variations in the amount of health related compounds in crops. In addition, influence of organic farming on health related compounds, on pesticide residues and heavy metals in crops, and relations between organic food and health biomarkers as well as in vitro studies are also the focus of the present paper. Nutritionally beneficial compounds of highest relevance for public health were micronutrients, especially Fe and Zn, and bioactive compounds such as carotenoids (including pro-vitamin A compounds), tocopherols (including vitamin E) and phenolic compounds. Extremely large variations in the contents of these compounds were seen, depending on genotype, climate, environment, farming conditions, harvest time, and part of the crop. Highest amounts seen were related to the choice of genotype and were also increased by genetic modification of the crop. Organic cultivation did not influence the content of most of the nutritional beneficial compounds, except the phenolic compounds that were increased with the amounts of pathogens. However, higher amounts of pesticide residues and in many cases also of heavy metals were seen in the conventionally produced crops compared to the organic ones. Animal studies as well as in vitro studies showed a clear indication of a beneficial effect of organic food/extracts as compared to conventional ones. Thus, consumption of organic food seems to be positive from a public health point of view, although the reasons are unclear, and synergistic effects between various constituents within the food are likely.
PMID: 24717360 [PubMed – in process] PMCID: PMC4025038 Free PMC Article
Food Chem. 2012 Oct 15;134(4):1926-31. doi: 10.1016/j.foodchem.2012.03.130. Epub 2012 Apr 9.
Strawberries from integrated pest management and organic farming: phenolic composition and antioxidant properties.
Fernandes VC1, Domingues VF, de Freitas V, Delerue-Matos C, Mateus 
Abstract
Consumer awareness, pesticide and fertilizer contaminations and environmental concerns have resulted in significant demand for organically grown farm produce. Consumption of berries has become popular among health-conscious consumers due to the high levels of valuable antioxidants, such as anthocyanins and other phenolic compounds. The present study evaluated the influence that organic farming (OF) and integrated pest management (IPM) practise exert on the total phenolic content in 22 strawberry samples from four varieties. Postharvest performance of OF and IPM strawberries grown in the same area in the centre of Portugal and harvested at the same maturity stage were compared. Chemical profiles (phenolic compounds) were determined with the aid of HPLC-DAD/MS. Total phenolic content was higher for OF strawberry extracts. This study showed that the main differences in bioactive phytochemicals between organically and IPM grown strawberries concerned their anthocyanin levels. Organically grown strawberries were significantly higher in antioxidant activity than were the IPM strawberries, as measured by DPPH and FRAP assays.
MORE ADAPTABLE
J Agric Food Chem. 2013 Oct 30;61(43):10335-44. doi: 10.1021/jf4026844. Epub 2013 Oct 17.
Variations in the phytochemical contents and antioxidant capacity of organically and conventionally grown Italian cauliflower (Brassica oleracea L. subsp. botrytis): results from a three-year field study.
Lo Scalzo R1, Picchi V, Migliori CA, Campanelli G, Leteo F, Ferrari V, Di Cesare LF.
Abstract
A three-year field study (2009-2011) was performed to evaluate phytochemicals and antioxidant capacities of two genotypes (HF1 Emeraude and the local variety, Velox) of green cauliflower grown under organic and conventional management. The conventional system increased yield, but had little effect on the dry matter, whereas the organic system increased the soluble solids. Phytochemicals and antioxidant capacity showed significant year-to-year variability. During the third year, the scarce rainfall determined a significant increase of total glucosinolates and a general decrease of antioxidants in all samples. Interestingly, in the same year organic plants were less affected by the unfavorable climatic conditions, as they increased ascorbic acid, polyphenols, and carotenoids with respect to conventional ones. The overall results for the three years showed that the two genotypes responded differently. Compared to the conventional system, Velox showed 24, 21, 13, 48, and 44% higher content of ascorbic acid, polyphenols, carotenoids, volatiles, and antioxidant capacity, respectively. In contrast, no significant increase in the phytochemicals or the antioxidant potential was found in organic Emeraude, with the exception of total volatiles (+41%). These findings suggest that organic cultivation may be highly effective for particular cauliflower genotypes.
PLoS One. 2013;8(1):e52988. doi: 10.1371/journal.pone.0052988. Epub 2013 Jan 9.
Organicallygrown food provides health benefits to Drosophila melanogaster.
Abstract
The "organic food" market is the fastest growing food sector, yet it is unclear whether organically raised food is nutritionally superior to conventionally grown food and whether consuming organic food bestows health benefits. In order to evaluate potential health benefits of organic foods, we used the well-characterized fruit fly Drosophila melanogaster as a model system. Fruit flies were raised on a diets consisting of extracts of either conventionally or organically raised produce (bananas, potatoes, raisins, soy beans). Flies were then subjected to a variety of tests designed to assess overall fly health. Flies raised on diets made from organically grown produce had greater fertility and longevity. On certain food sources, greater activity and greater stress resistance was additionally observed, suggesting that organic food bestows positive effects on fly health. Our data show that Drosophila can be used as a convenient model system to experimentally test potential health effects of dietary components. Using this system, we provide evidence that organically raised food may provide animals with tangible benefits to overall health.
PMID: 23326371 [PubMed – indexed for MEDLINE] PMCID: PMC3541339 Free PMC Article
TESTING FOR THE DIFFERENCE
Food Chem. 2013 Dec 1;141(3):2812-20. doi: 10.1016/j.foodchem.2013.05.068. Epub 2013 May 24.
Is it really organic?–multi-isotopic analysis as a tool to discriminate between organic and conventional plants.
Laursen KH1, Mihailova A, Kelly SD, Epov VN, Bérail S, Schjoerring JK, Donard OF, Larsen EH, Pedentchouk N, Marca-Bell AD, Halekoh U, Olesen JE, Husted S.
Abstract
Novel procedures for analytical authentication of organic plant products are urgently needed. Here we present the first study encompassing stable isotopes of hydrogen, carbon, nitrogen, oxygen, magnesium and sulphur as well as compound-specific nitrogen and oxygen isotope analysis of nitrate for discrimination of organically and conventionally grown plants. The study was based on wheat, barley, faba bean and potato produced in rigorously controlled long-term field trials comprising 144 experimental plots. Nitrogen isotope analysis revealed the use of animal manure, but was unable to discriminate between plants that were fertilised with synthetic nitrogen fertilisers or green manures from atmospheric nitrogen fixing legumes. This limitation was bypassed using oxygen isotope analysis of nitrate in potato tubers, while hydrogen isotope analysis allowed complete discrimination of organic and conventional wheat and barley grains. It is concluded, that multi-isotopic analysis has the potential to disclose fraudulent substitutions of organic with conventionally cultivated plants.
Copyright © 2013 Elsevier Ltd. All rights reserved.
J Sci Food Agric. 2014 Jan 15. doi: 10.1002/jsfa.6566. [Epub ahead of print]
Metabolite profiling on wheat grain to enable a distinction of samples from organic and conventional farming systems.
Bonte A1, Neuweger H, Goesmann A, Thonar C, Mäder P, Langenkämper G, Niehaus 
Abstract
BACKGROUND:
Identification of biomarkers capable of distinguishing organic and conventional products would be highly welcome to improve the strength of food quality assurance. Metabolite profiling was used for biomarker search in organic and conventional wheat grain (Triticum aestivum L.) of 11 different old and new bread wheat cultivars grown in the DOK system comparison trial. Metabolites were extracted using methanol and analysed by gas chromatography-mass spectrometry.
RESULTS:
Altogether 48 metabolites and 245 non-identified metabolites (TAGs) were detected in the cultivar Runal. Principal component analysis showed a sample clustering according to farming systems and significant differences in peak areas between the farming systems for 10 Runal metabolites. Results obtained from all 11 cultivars indicated a greater influence of the cultivar than the farming system on metabolite concentrations. Nevertheless, a t-test on data of all cultivars still detected 5 metabolites and 11 TAGs with significant differences between the farming systems.
CONCLUSION:
Based on individual cultivars, metabolite profiling showed promising results for the categorization of organic and conventional wheat. Further investigations are necessary with wheat from more growing seasons and locations before definite conclusions can be drawn concerning the feasibility to evolve a combined set of biomarkers for organically grown wheat using metabolite profiles. © 2014 Society of Chemical Industry.
© 2014 Society of Chemical Industry.
Anal Chem. 2013 Mar 5;85(5):2945-53. doi: 10.1021/ac303445v. Epub 2013 Feb 22.
Authentication of organically and conventionally grown basils by gas chromatography/mass spectrometry chemical profiles.
Wang Z1, Chen P, Yu L, Harrington Pde B.
Abstract
Basil plants cultivated by organic and conventional farming practices were accurately classified by pattern recognition of gas chromatography/mass spectrometry (GC/MS) data. A novel extraction procedure was devised to extract characteristic compounds from ground basil powders. Two in-house fuzzy classifiers, i.e., the fuzzy rule-building expert system (FuRES) and the fuzzy optimal associative memory (FOAM) for the first time, were used to build classification models. Two crisp classifiers, i.e., soft independent modeling by class analogy (SIMCA) and the partial least-squares discriminant analysis (PLS-DA), were used as control methods. Prior to data processing, baseline correction and retention time alignment were performed. Classifiers were built with the two-way data sets, the total ion chromatogram representation of data sets, and the total mass spectrum representation of data sets, separately. Bootstrapped Latin partition (BLP) was used as an unbiased evaluation of the classifiers. By using two-way data sets, average classification rates with FuRES, FOAM, SIMCA, and PLS-DA were 100 ± 0%, 94.4 ± 0.4%, 93.3 ± 0.4%, and 100 ± 0%, respectively, for 100 independent evaluations. The established classifiers were used to classify a new validation set collected 2.5 months later with no parametric changes except that the training set and validation set were individually mean-centered. For the new two-way validation set, classification rates with FuRES, FOAM, SIMCA, and PLS-DA were 100%, 93%, 97%, and 100%, respectively. Thereby, the GC/MS analysis was demonstrated as a viable approach for organic basil authentication. It is the first time that a FOAM has been applied to classification. A novel baseline correction method was used also for the first time. The FuRES and the FOAM are demonstrated as powerful tools for modeling and classifying GC/MS data of complex samples, and the data pretreatments are demonstrated to be useful to improve the performance of classifiers.
PMID: 23398171 [PubMed – indexed for MEDLINE] PMCID: PMC3645470 Free PMC Article
LESS YIELD MORE PESTS "no difference in phenolic acids…"
Food Chem. 2014 Feb 15;145:903-9. doi: 10.1016/j.foodchem.2013.09.011. Epub 2013 Sep 11.
Effect of farming systems on the yield, quality parameters and sensory properties of conventionally and organicallygrown potato (Solanum tuberosum L.) tubers.
Brazinskiene V1, Asakaviciute R, Miezeliene A, Alencikiene G, Ivanauskas L, Jakstas V, Viskelis P, Razukas 
Abstract
The objectives of this two-year research were to study the impact of two different farming types, conventional and organic, on the yield and sensory properties of five Lithuanian varieties of potato tuber. The parameters and properties examined were: phenolic acids; dry matter and starch content; and the spread and intensity of Phytophthora infestans growth. It was determined that potato yield fluctuates with the variety, but for conventional farming it is significantly (p<0.05) higher than that obtained by organic farming. The farming type has no significant effect (p>0.05) on the content of phenolic acids. No significant effect (p>0.05) of farming type on dry matter and starch content, or sensory properties was found. No significant relation (p>0.05) was found between the content of phenolic acids and P. infestans spread. The spread of P. infestans was faster and infection was heavier in organically grown potatoes.
2013 Apr;103(4):381-8. doi: 10.1094/PHYTO-04-12-0072-FI.
Organically managed soils reduce internal colonization of tomato plants by Salmonella enterica serovar Typhimurium.
Gu G1, Cevallos-Cevallos JM, Vallad GE, van Bruggen AH.
Author information
Abstract
A two-phase experiment was conducted twice to investigate the effects of soil management on movement of Salmonella enterica Typhimurium in tomato plants. In the first phase, individual leaflets of 84 tomato plants grown in conventional or organic soils were dip inoculated two to four times before fruiting with either of two Salmonella Typhimurium strains (10(9) CFU/ml; 0.025% [vol/vol] Silwet L-77). Inoculated and adjacent leaflets were tested for Salmonella spp. densities for 30 days after each inoculation. Endophytic bacterial communities were characterized by polymerase chain reaction denaturing gradient gel electrophoresis before and after inoculation. Fruit and seed were examined for Salmonella spp. incidence. In phase 2, extracted seed were planted in conventional soil, and contamination of leaves and fruit of the second generation was checked. More Salmonella spp. survived in inoculated leaves on plants grown in conventional than in organic soil. The soil management effect on Salmonella spp. survival was confirmed for tomato plants grown in two additional pairs of soils. Endophytic bacterial diversities of tomato plants grown in conventional soils were significantly lower than those in organic soils. All contaminated fruit (1%) were from tomato plants grown in conventional soil. Approximately 5% of the seed from infested fruit were internally contaminated. No Salmonella sp. was detected in plants grown from contaminated seed.
PMID: 23506364 [PubMed – indexed for MEDLINE] Free full text
MIXED RESULTS
Acta Chim Slov. 2013;60(1):19-25.
Strawberries from integrated and organic production: mineral contents and antioxidant activity.
Kristl J1, Krajnc AU, Kramberger B, Mlakar SG.
Abstract
As the nutritional quality of food is becoming increasingly more important for consumers, significant attention needs to be devoted to agricultural practices and their influences on the nutrient contents in food. The presented investigation studied the mineral contents and antioxidant activities in the fruits of four organically-grown strawberry cultivars 'St. Pierre', 'Elsanta', 'Sugar Lia' and 'Thuchampion' when compared to those of integrated-grown plants. The strawberries were digested and analyzed for K, Mg, Fe, Zn, Cu, and Mn using an atomic absorption spectrometer, whilst P was analyzed using a vanadate-molybdate method. In addition, antioxidant activity was estimated by using the ABTS assay. The results showed that the mineral contents and antioxidant activities in strawberries depends on the cultivar, and its production system. Organically-grown fruits showed higher antioxidant activities and Cu content than the integrated fruits, whilst the integrated fruits were superior in their contents of P, K, Mg, Fe and Mn. All the cultivars showed similar Zn content, probably reflecting the fact that the Zn content in strawberries does not depend on the cultivar.
PMID: 23841328 [PubMed – indexed for MEDLINE]
THE BOTTOM LINE
Since a picture is worth 1000 words, here is what birds think about organic vs. pesticides (GMO)
corn left on the cobb out free for the nibbling.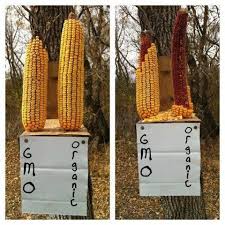 That gives us food for thought!
READ MORE