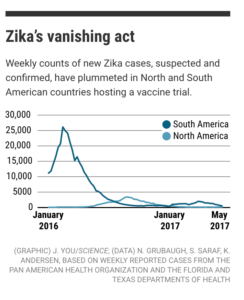 Dr. Weeks' Comment:  The new God of science, the Deus ex machina, is the savior and all powerful vaccine…   not!
Zika vaccine
Please let me know if I'm supposed to look up prior Zika discussions instead of starting a new one…
http://www.sciencemag.org/news/2018/09/massive-zika-vaccine-trial-struggles-researchers-revive-plan-intentionally-infect
"Now, a $110 million vaccine trial is underway at 17 sites in nine countries, but it faces an unexpected, and ironic, challenge. Cases of Zika have plummeted to levels so low that most people vaccinated in the trial likely will never be exposed to the virus, which could make it impossible to tell whether the vaccine works.
"Right now, there are no infections, and certainly not enough to even think about an efficacy signal at this point," says Anthony Fauci, director of the U.S. National Institute of Allergy and Infectious Diseases (NIAID) in Bethesda, Maryland, which launched the trial. Human trials of other Zika vaccine candidates at earlier stages are also in limbo, and last year one large vaccinemaker pulled the plug on development of its candidate. But NIAID and others are pressing ahead, saying a vaccine might someday be needed. To make up for the lack of new cases, other investigators are turning to an unusual, and ethically complex, strategy. Starting next year, Science has learned, they plan to test a vaccine by deliberately infecting people with Zika."
They intend to intentionally infect Brazilian women.